Subscribers Newsletter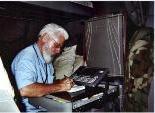 Has George Soros now become the Pope Maker?
Elizabeth Yore (at Remnant) unveils very strong connections between top George Soros surrogates and Pope Francis.
Vic Biorseth, Thursday, August 25, 2016
https://www.catholicamericanthinker.com/
The very idea that the earth cannot sustain itself without government interference and human control of nature, and that "man" is destroying sustainability and therefore needs to be strongly controlled by government, approaches the idiotic. Of course, the driving influence behind such notions is not idiotic, but evil.
So, the question of the day revolves round whether Pope Francis is being manipulated, or fully understands what is behind it all and cooperates with the evil global agenda.
Pope Francis remains the Vicar of Christ. No Pope, including Francis, has ever added to, changed or deleted from the original revealed sacred deposit of faith. That is not to say that no Pope has ever been dead wrong about anything else.
(Continue Reading the Whole Article at Pope-Maker)
Do not reply to this automatic email.
Respond the original article at: Pope-Maker Comments.
Find ALL articles at: The Catholic American Thinker CONTENTS.