Subscribers Newsletter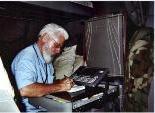 The Predictable Aftermath of Any Shooting: Quick Demonstration.
How shell-shocked students are manipulated, quick, while they're still all emotional, by Soros-Funded Alinsky-Organizers, to emotionally "Demonstrate" for Marxocrat-Party Causes.
Vic Biorseth, Tuesday, February 20, 2018
https://www.catholicamericanthinker.com

This is a follow-on to the Organized Ungodliness page, which itself was a follow-on to the Godless Culture page. It's all about how individuals and even whole cultures, or large segments of them, can be unknowingly manipulated into action, and into error, thereafter quite often to remain in error. Just as the "Useful Idiot" of Marxism doesn't know he's a Useful Idiot, the shocked and grieving witnesses of horrific events are blithely unaware of even the thought of anyone trying to manipulate their immediate emotions for other purposes.

Continue Reading at: Predictable-Aftermath
Do Not Respond To This Automatic Email.
Reply to this article at Predictable-Aftermath Comments
Find ALL SITE articles at: The Catholic American Thinker CONTENTS.