Subscribers Newsletter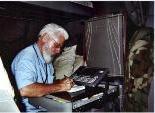 Psychological Projection of Evil Intent by Political Parties.
Marxocrat Party false claims against President Trump are all Psychological Projections. Evil Marxist Ideology naturally assumes that everyone else is evil, too. Especially anyone in opposition to their own rigid evil ideology.
Vic Biorseth, Sunday, February 04, 2018
https://www.catholicamericanthinker.com

The Marxocrat Party is determined to transform America from a Constitutional Republic into a totalitarian dictatorship, under some title typical of such states, such as, a Democratic Socialist Republic. And the Republicrat Party exists merely to exist, and to grow, and to contend for political power against the Marxocrat Party. Some Republicrats seek to share political power with the Marxocrats. Few if any seek to live and operate within, let alone defend, let alone restore to it's rightful position as the Supreme Law of the Land, the actual Constitution of the USA.

Continue Reading at: Psychological-Projection
Do Not Respond To This Automatic Email.
Reply to this article at Psychological-Projection Comments
Find ALL SITE articles at: The Catholic American Thinker CONTENTS.