Subscribers Newsletter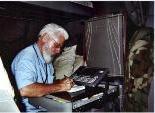 Is Pope Francis Merely Confused, or Purposely Confusing?
We see the Cultural-Marxism Movement Purposely Confusing Science, Classical Education, Politics, Religion and Philosophy. Is Pope Francis In League with it, and Purposely Confusing Catholicism?
Vic Biorseth, Friday, April 06, 2018
https://www.catholicamericanthinker.com

Truth Divides. Falsehood Unifies.

When Truth unites with Falsehood, Confusion always favors Falsehood.

Truth cannot unify with Falsehood without Confusion. Truth and Falsehood are separate and distinct things, which are mutually exclusive polar opposites. Truth and Falsehood cannot even coexist.

Continue Reading at: Purposely-Confusing
Do Not Respond To This Automatic Email.
Reply to this article at Purposely-Confusing Comments
Find ALL SITE articles at: The Catholic American Thinker CONTENTS.