Subscribers Newsletter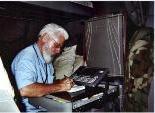 Pursuit Of Happiness: Under Constitutional America vs. under Marxism or Islam.
The "Pursuit Of Happiness" in our Declaration as compared to the "Happiness" of the Socialist Collective, and the "Happy Sadistic Domination" of Islam.
Vic Biorseth, Monday, June 27, 2016
https://www.catholicamericanthinker.com/
"... We hold these truths to be self-evident, that all men are created equal, that they are endowed by their Creator with certain unalienable Rights, that among these are Life, Liberty and the pursuit of Happiness. ..." --Declaration of Independence (Emphasis Added)
Here, the authors of the American Declaration of Independence established four, unalienable, God-given, Natural Law human rights, as a purpose-for-being and the very foundation stone of an entirely new form of government.
What did the authors mean by "Pursuit of Happiness"?
(Continue Reading the Whole Article at Pursuit-Of-Happiness)
Do not reply to this automatic email.
Respond the original article at: Pursuit-Of-Happiness Comments.
Find ALL articles at: The Catholic American Thinker CONTENTS.