Subscribers Newsletter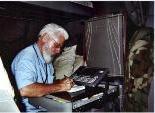 Questioning Truth: "There is no absolute truth", say the Enlightened Elite.
Questioning Truth itself has been the pop-culture wave since the 1960s. Loss of faith in man's ability to even identify reality is the real source of all the social chaos.
Vic Biorseth, Sunday, March 19, 2017
www.CatholicAmericanThinker.com
To say there is no absolute truth is to say that there are no moral absolutes. Therefore there is no such thing as right and wrong, strictly speaking; everything exists in shades of grey. The abandonment of Objective Reality cannot be done without abandoning belief in God, and in all Revealed Truth. Which leaves man with a pointless and purposeless existence, with no knowable purpose for being.
Continue Reading at: Questioning-Truth
Do Not Respond To This Automatic Email.
Reply to this article at Questioning-Truth Comments.
Find ALL SITE articles at: The Catholic American Thinker CONTENTS.