Subscribers Newsletter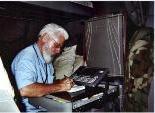 Notable Quotable Judie Brown, on Trump, Life and Death.
American Life League's Quotable Judie Brown nailed the essence of the response to Trump's offer to Planned Parenthood.
Vic Biorseth, Wednesday, March 22, 2017
www.CatholicAmericanThinker.com
In Trump Rising we offered the Passing Thought that President Trump had smoked Planned Parenthood out into the open with his offer to not cut their funding if they would stop committing abortions. Of course, they refused; that's their business; it's what they do. American Life League's Judie Brown fleshed that out a lot more in an article titled Trump Exposes Planned Parenthood's Priority: Baby Killing. The pull-quote that sums it all up:
Continue Reading at: Quotable-Judie-Brown
Do Not Respond To This Automatic Email.
Reply to this article at Quotable-Judie-Brown Comments.
Find ALL SITE articles at: The Catholic American Thinker CONTENTS.