Subscribers Newsletter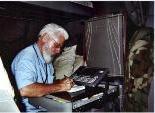 Science opposes Racial Discrimination and favors Brotherhood of All Men.
Racial Discrimination is an unnatural, immoral, irrational, culturally induced and learned behavior.
Vic Biorseth, Wednesday, June 10, 2015
https://www.catholicamericanthinker.com/
Most people would be shocked at how consistently material science, properly applied, agrees with Christian theology. The study of human races is a good example. The idea that different races "evolved" at different times in different places from different parentage, for example, is quite impossible. We all share the same blood. We all share the same human DNA. All human races are capable of interbreeding and producing human offspring, which means, we are all of one and the same species.
With the advent of forensic DNA testing and DNA research into human ancestry came the discovery that every single human being ever born, of whatever race, can be traced all the way back to one single woman. You may call her Eve if you wish.

(Continue Reading at Original Source: Racial Discrimination).
Do not reply to this automatic email.
Respond to this article at the actual article:
Respond to Racial Discrimination.
Find related articles at: The Divide And Conquer Pages.
Find ALL articles at: The Catholic American Thinker CONTENTS.