Subscribers Newsletter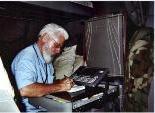 The Source of Radical Islamic Terrorism? Mohammed and the Koran.
Radical Marxist Terrorism comes out of the Communist Manifesto and Das Kapital. Similarly, Radical Islamic Terrorism comes right straight out of the Koran.
Vic Biorseth, Wednesday, February 22, 2017
https://www.catholicamericanthinker.com
Frankly, it is hard to understand how the entire "Establishment" still doesn't get it. Unless they're in on it. Seemingly everyone in authority, and everyone respected as "knowledgeable" on the subject, insists that, number one, Islam itself is not the problem, and number two, that what is at war with us is Radical Islamic Terrorism.
Continue Reading at: Radical-Islamic-Terrorism
Do Not Respond To This Automatic Email.
Reply to this article at Radical-Islamic-Terrorism Comments.
Find ALL SITE articles at: The Catholic American Thinker CONTENTS.