Subscribers Newsletter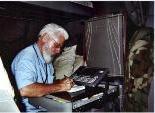 It ain't raining cats and dogs around here; it's raining stupidity.
You've heard of trickle-down economics? Well, this is pouring down stupidassery.
Vic Biorseth, Friday, October 16, 2015
https://www.catholicamericanthinker.com/
A rising tide lifts all boats, sure enough. But it's raining stupidity, and if you can't do critical thinking any more, you ain't in a boat. This stupidity is raining from the top down, on us all. It's coming from Supreme Court Justices, the President, Cabinet Members, Senators, Congressmen, and even Cardinals of the Catholic Church. It's the opposite of what reason expects. The most elite among us are the most stupid, and they are destroying simple common sense and responsible adult judgement throughout society, destroying decent human cultures, wrecking civilization, weakening sovereignty of nations and leading souls to hell.

(Continue Reading at Original Source: Raining Stupidity).
Do not reply to this automatic email.
Respond to this article at the actual article:
Respond to Raining Stupidity.
Find ALL articles at: The Catholic American Thinker CONTENTS.