Subscribers Newsletter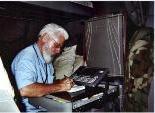 Objective Truth is Reality; Subjective Truth is Opinion.
The old fashioned Scientific Method is Empirical and Purely Objective. "Scientism" is Democratic, Statistical, Theoretical and Purely Subjective. Where Real Science seeks Reality, Scientism promotes Popular Theory.
Vic Biorseth, Wednesday, September 19, 2018
https://www.CatholicAmericanThinker.com/
Tell a modern-day one of TTRSTF4, or one of TTRSPTF5 that there is no empirical evidence whatsoever supporting macro evolution, and empirical evidence refuting it, and the most likely response will be, "I know plenty of scientists who disagree with that".
So what?
The statement is either true, or it is not. Opinion has absolutely nothing to do with it.
Continue Reading at: Reality
Do Not Respond To This Automatic Email.
Reply to this article at Reality Comments
Find ALL SITE articles at: The Catholic American Thinker CONTENTS.