Subscribers Newsletter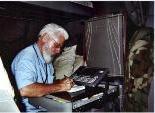 Red Jihad: How Marxism uses Islam as just another Revolutionary Tool.
The Red Left consistently feeds the "Islam Is Peace" lie, blames the Right, Capitalism, white people or the USA for acts of Jihad, to help feed and grow Pre-Revolution Chaos and Disorder.
Vic Biorseth, Wednesday, May 03, 2017
https://www.catholicamericanthinker.com
It's never Islam, per se. It may be "radical" Islam, or it may be "Hijacked Islam", or "Islamism" or "Radical Islamic Terrorism". But not Islam; no, never, because Islam is a religion of peace. Ask any Moslem. Ask any Obamunist. Ask any Marxocrat. Ask most Republicrats. Ask Pope Francis. Ask most any academic. Ask most any journalist.
Continue Reading at: Red-Jihad
Do Not Respond To This Automatic Email.
Reply to this article at Red-Jihad Comments.
Find ALL SITE articles at: The Catholic American Thinker CONTENTS.