Subscribers Newsletter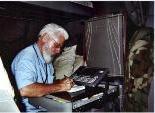 Redounding Evil: All the Chickens Coming Home to Roost.
All the Lies, all the Falsehoods, all the Trickery, all the opposition to Truth, in our Religion, in our Science, in our Politics, in our whole Culture, are redounding back on Now Identified Evil.
Vic Biorseth, Tuesday, November 07, 2017
https://www.catholicamericanthinker.com

If God is Truth, then, falsehood is evil.

If God is the center of all truth, then every instance of untruth, or error, be it purposeful or not, leads man away from truth and is evil at its root. Man is called to seek truth in every area and in every single aspect of life. No exceptions.

To allow oneself to fall into error is to fall into evil. Homo-Sapiens is not a meaningless term. We are designed to think. For ourselves.

Continue Reading at: Redounding-Evil
Do Not Respond To This Automatic Email.
Reply to this article at Redounding-Evil Comments
Find ALL SITE articles at: The Catholic American Thinker CONTENTS.