Subscribers Newsletter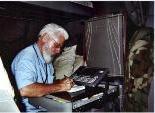 On our Revealed Cause for Being, versus Theory divorced from Revelation.
When strictly faith-based Darwinism denies the Revealed Cause of everything, it must "evolve" increasingly nonsensical theories for Uncaused Matter.
Vic Biorseth, Sunday, July 30, 2017
https://www.catholicamericanthinker.com

All things come from something that caused them to be. The "uncaused cause" is the one thing that began the entire chain of caused existence. In Philosophy this uncaused cause of all other causes is identified as God. Our only way of knowing God is through His Revelation of Himself to Man. To deny this Revelation is to deny God. To deny the uncaused cause is to deny God. To theorize or imagine into being any "natural" uncaused cause is to deny God.

This is the foundational basis for what is attacked today as "Creationism".

Continue Reading at: Revealed-Cause
Do Not Respond To This Automatic Email.
Reply to this article at Revealed-Cause Comments
Find ALL SITE articles at: The Catholic American Thinker CONTENTS.