Subscribers Newsletter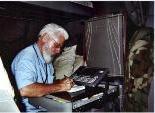 It's the Violent Revolutionary Ideology, Stupid.
The Political Ideology of James Hodgkinson was the Bloody Marxist Revolution now typical of the American Marxocrat Party and the Fake News Media. Why doesn't everyone just get that?
Vic Biorseth, Thursday, June 15, 2017
https://www.catholicamericanthinker.com
Have we all been so educated, indoctrinated and propagandized into the "Bring-Us-All-Together" and "Let-Us-All-Unite" and "We-Are-All-Americans" suicidal stupidity that we can no longer recognize the Sociopathic Revolutionary in our family, across the backyard fence or sitting right next to us in the Church Pew?
Or on the television screen? Or teaching in the classroom? Or holding high political office? Or entertaining us?
Continue Reading at: Revolutionary-Ideology
Do Not Respond To This Automatic Email.
Reply to this article at Revolutionary-Ideology Comments
Find ALL SITE articles at: The Catholic American Thinker CONTENTS.