Subscribers Newsletter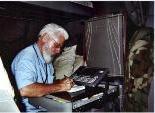 Ungodly Communist Science-Denial, calling the Godly Science Deniers.
Globalist-Communist purveyors of evil political frauds and hoaxes by which to fool and "herd" people, always slander opponents with the label Science Denial.
Vic Biorseth, Sunday, July 12, 2020
https://www.catholicamericanthinker.com
Communists do not recognize, practice or even properly quote Science. What Communists do recognize, practice and properly quote is Scientism, or non-scientific Consensus-Science, which is either an invention of or an adoption and adaptation of Communism, applied for evil political purposes. Through the steady progress of Cultural Marxism, Communism has managed to convince much of the world population that their Scientism is real science, and that all who oppose any part of it thereby deny science.
Continue Reading at: Science-Denial
Do Not Respond To This Automatic Email.
Reply to this article at Science-Denial Comments
Find ALL SITE articles at: The Catholic American Thinker CONTENTS.