Subscribers Newsletter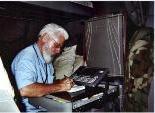 The Elite, Effete, Upper-Class Science-Deniers of the New World Order.
Denial of God is denial of Truth, which leads to denial even of solid empirical facts that do not support the inevitable man-made alternative ideology.
Vic Biorseth, Tuesday, March 28, 2017
www.CatholicAmericanThinker.com
It is a wonderment that the effete God-deniers are the ones who refer to God-believers as "Flat Earthers" and "Science Deniers" when it is so glaringly obvious that the shoe is on the other foot. Flat Earth Theory was a scientific theory, not a theological one. The Church never issued any doctrine on the shape of the earth. Material Science did that. So the material scientists of the day were the original Flat-Earthers, not the Christians.
Continue Reading at: Science-Deniers
Do Not Respond To This Automatic Email.
Reply to this article at Science-Deniers Comments.
Find ALL SITE articles at: The Catholic American Thinker CONTENTS.