Subscribers Newsletter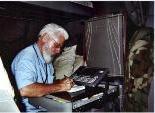 Is it Science as Idolatry, or Religion as Superstition?
Science was corrupted the moment it divorced Christianity; corrupted science then dropped the Scientific Method, adopted Science of Consensus, and became Science as Idolatry.
Vic Biorseth, Thursday, June 01, 2017
https://www.catholicamericanthinker.com
Friedrich Hayek coined the term Scientism to describe the almost purely faith-based belief system corrupted science had become, having morphed into a democratic science of consensus, rather than a methodology of empiricism, proofs and repeatable, verifiable experiment. Today, science bears all the hallmarks of a religion. Many if not most so-called scientists hold science itself in such esteem as to render it an Idol.
Continue Reading at: Science-as-Idolatry
Do Not Respond To This Automatic Email.
Reply to this article at Science-as-Idolatry Comments
Find ALL SITE articles at: The Catholic American Thinker CONTENTS.