Subscribers Newsletter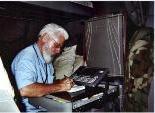 "Secularized Reason" is Reason divorced from Faith, which is Amoral Nonsense.
Secularized Reason is not merely Amoral, or simply Morally Neutral; it always comes to oppose all sense of any fixed cultural morality.
Vic Biorseth, Thursday, March 03, 2016
https://www.catholicamericanthinker.com/
You may have been educationally indoctrinated or publicly propagandized into believing that "putting your faith aside" for a moment is an innocent, faith-neutral, fair thing to do on occasion, but it is not. It is none of those things. And the more you do it, the more you are inclined to do it. It always, always, leads to weakened faith.
(Continue Reading the Whole Article at Secularized-Reason)
Do not reply to this automatic email.
Respond the original article at: Secularized-Reason Comments.
Find ALL articles at: The Catholic American Thinker CONTENTS.