Subscribers Newsletter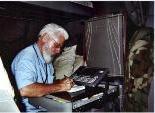 America's Extra-Constitutional Self Destructive Politics: Civilization's Doom.
How all of our Presidential Candidates build up and support America's Self Destructive Politics.
Vic Biorseth, Tuesday, August 18, 2015
https://www.catholicamericanthinker.com/
There is more at stake in the next American election than America.
Reagan was right. If we lose liberty here, there will be no place on earth that will be safe for liberty. There's no place else to go. And liberty is being systematically destroyed here, on purpose, by our own government. The Parties are doing it; some on purpose; some through blindly following Party leadership. All the Candidates are either in on it, or they don't even see it. It's all so obvious to all of us. Why don't any of the Candidates see it? How could they be so blind?

(Continue Reading at Original Source: Self-Destructive-Politics).
Do not reply to this automatic email.
Respond to this article at the actual article:
Respond to Self-Destructive-Politics.
Find related articles at: The Anti-Americanism Pages.
Find ALL articles at: The Catholic American Thinker CONTENTS.