Subscribers Newsletter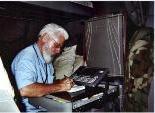 Our Identity Crisis is, precisely, our Lost Sense of Separateness.
To be Holy is to be Set-Apart from all that is not holy. To be American is to be Set-Apart from all the rest of the physical world. In both cases, loss of that Separateness is loss of True Identity.
Vic Biorseth, Friday, August 18, 2017
https://www.catholicamericanthinker.com

The minute you open the discussion about True Identity as opposed to invented "Identity Politics" and you say one word about the requirement of Separateness, the whole overwhelmingly Morally Relativistic and Politically Leftist world will publicly attack you and try to force you to change, and be like them.

And it will be here-we-go-again with all the usual slanders of Xenophobia, Homophobia, Misogyny, Racism, Imperialism, Right-Wing-ism, Militarism, Islamophobia, etc., and, worst of all, Rigid Catholicism and American Patriotism. (How horrible.)

They will humiliate, brow-beat and force you into non-identity, like them.

Continue Reading at: Separateness
Do Not Respond To This Automatic Email.
Reply to this article at Separateness Comments
Find ALL SITE articles at: The Catholic American Thinker CONTENTS.