Subscribers Newsletter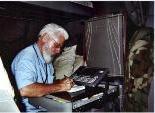 The Sharia Distraction that takes our eyes off of Jihad, the REAL danger.
Sharia only affects those in the Ummah. If you're NOT in the Ummah, Jihad will kill or enslave you. Worry about THAT.
Vic Biorseth, Monday, December 21, 2015
https://www.catholicamericanthinker.com/
Everybody seems to think we need to use views on Islamic Sharia Law in the vetting of Moslems coming into the country, or vetting those already here. People argue about what Sharia is, how Sharia is performed in various places under Sharia Law, whether it's OK or not OK as practiced in Saudi Arabia, or Syria, or Iran, or Iraq, or West Bank, or Gaza, or Jordan, or Egypt, or etc., etc., etc. And, they worry about whether the Moslem would-be American accepts or rejects Sharia.
Why?

(Continue Reading at Original Source: Sharia-Distraction.).
Do not reply to this automatic email.
Respond to this article at the actual article:
Respond to Sharia-Distraction..
Find ALL articles at: The Catholic American Thinker CONTENTS.