Subscribers Newsletter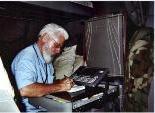 Sheriffs and Veterans and Citizens; Oh My!
County Sheriffs and Veterans should together form volunteer Minute-Man like County Militia units of the free citizenry.
Vic Biorseth, Tuesday, June 23, 2015
https://www.catholicamericanthinker.com/
The Representative Cop.
Your local County Sheriff is the only Police Officer in the nation who does not report to any higher appointed or elected official. The Sheriff is the only American Police Officer who is elected to office by the people of the County. Local Police are hired by and answerable to Mayors or Town Councils. State Police are hired by and answerable to Governors. US Marshals and FBI Agents are hired by and answerable to the President or his Attorney General. Only the Sheriff is elected by, representative of and answerable solely to the local People themselves. He knows them, and they know him.

(Continue Reading at Original Source: Sheriffs and Veterans).
Do not reply to this automatic email.
Respond to this article at the actual article:
Respond to Sheriffs and Veterans.
Find related articles at: The Fixing America Pages.
Find ALL articles at: The Catholic American Thinker CONTENTS.