Subscribers Newsletter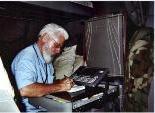 The Silly Errors: Beyond Stupid, into the Realm of Silliness.
Untruth and Falsehood is rarely subtle and never totally hidden. But some of it is so wrong, and so stupid as to be downright Silly.
Vic Biorseth, Sunday, Monday, April 02, 2018
https://www.catholicamericanthinker.com

How do so many grown men ever become such unserious silly twits?

By diabolical, conspiratorial plot?

Well, we could blame indoctrination masked as formal education, and propaganda masked as serious news reporting, and anti-national national political agenda items masked as being good for the nation.

But isn't it true that responsible adulthood is supposed to be characterized by good, serious thinking, and good decision making? What used to be known as the exercise of Adult Judgment?

Continue Reading at: Silly-Errors
Do Not Respond To This Automatic Email.
Reply to this article at Silly-Errors Comments
Find ALL SITE articles at: The Catholic American Thinker CONTENTS.