Subscribers Newsletter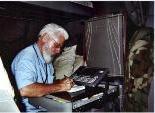 Simple common sense, in Catholicism and Americanism, is out the window.
You don't need degrees or books on theology or civil law in the living of daily life as much as you need Simple Common Sense.
Vic Biorseth, Monday, November 09, 2015
https://www.catholicamericanthinker.com/
The world is upside down. The tail is wagging the dog. The homosexuals are anathematizing the heterosexuals. The atheists are anathematizing the religionists. The American Marxists are anathematizing the American Constitutionalists. The Moslems are anathematizing the whole world. The Trans-Racials are running racist organizations not of their own race. The trans-genders are outlawing men's rooms and lady's rooms. The "Scientists" are anathematizing the scientific method itself. The United Nations is anathematizing all national sovereignty, world order and peace. "Representative" government is anathematizing government representation of the people. Constitutional government operates in direct opposition to the Constitution.

(Continue Reading at Original Source: Simple-Common-Sense).
Do not reply to this automatic email.
Respond to this article at the actual article:
Respond to Simple-Common-Sense.
Find ALL articles at: The Catholic American Thinker CONTENTS.