Subscribers Newsletter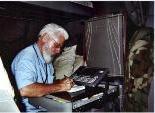 All the Smiling Degenerates, Looking Good While Advancing Moral Depravity.
The Smiling Degenerates of American Government, Happily Bringing America Down.
Vic Biorseth, Saturday, August 01, 2015
https://www.catholicamericanthinker.com/
On the loss of any sense of Principle, and the point of no return.
Unconstitutional and Invalid Separation of Church and State.
We have already talked about the Constitutional illegitimacy and therefore invalidity of the Supreme Court established "Principle" of Separation of Church and State. It is nothing more than a case law precedent. It is a "Principle" awaiting nullification by a President or a Congress, or both, as part of a program to bring the American government back under the Constitution that all government officials swore to uphold in their oaths of office.

(Continue Reading at Original Source: Smiling Degenerates).
Do not reply to this automatic email.
Respond to this article at the actual article:
Respond to Smiling Degenerates.
Find related articles at: The Death of Morality Pages.
Find ALL articles at: The Catholic American Thinker CONTENTS.