Subscribers Newsletter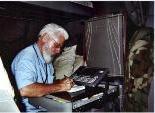 Unabashed, Open, Smiling Evil Everywhere You Look In Leadership.
The openness about it should be shocking, but it isn't. Not any more. Smiling Evil is now Mainstream.
Vic Biorseth, Friday, March 23, 2018
https://www.catholicamericanthinker.com

It may seem like an obsession, and maybe it is, but I just can't get over it. How could pure Evil - pure Falsehood - ever have become the predominant characteristic of ecclesial, civil, government, political, academic, and entertainment faces, here, in the USA, of all places?

We keep coming back to it because it just keeps getting worse. Over time it grows and spreads, and gives every impression dominating culture, which is why it unabashedly smiles at the world and is no longer ashamed, but proud, of what it is and what it stands for.

Continue Reading at: Smiling-Evil
Do Not Respond To This Automatic Email.
Reply to this article at Smiling-Evil Comments
Find ALL SITE articles at: The Catholic American Thinker CONTENTS.