Subscribers Newsletter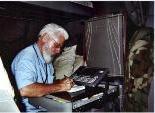 The Unrecognized Evil of Social Evolution, including Modern Libertarianism.
How Social Evolution "evolves" away from belief in unchanging objective reality: From Judaeo-Christian Western Civilization into anything-goes Pop-Culture.
Vic Biorseth, Wednesday, February 03, 2016
https://www.catholicamericanthinker.com/
In Organic Evolving Constitution we described the self-destructive view of our Constitution as a living, breathing organism that "evolves" to suit the needs of an "evolving" human society. And that is, of course, nationally destructive nonsense. Truth does not change; only man's view of it, or interpretation of it, or recognition of it changes. In a similar manner, the carefully laid out, proven, time-tested organization of a nation should not change to suit fads or rumors or minority opinions or unproven wild theories.
Where did this "evolving" thinking come from?
(Continue Reading the Whole Article at Social-Evolution)
Do not reply to this automatic email.
Respond the original article at: Social-Evolution Comments.
Find ALL articles at: The Catholic American Thinker CONTENTS.