Subscribers Newsletter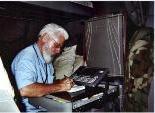 Social Issue Neutrality: The Death Knell of Civilized Culture.
Can Christians embrace God Belief Neutrality? How about God's Law Neutrality? How, exactly, is Social Issue Neutrality any less damning?
Vic Biorseth, Friday, December 30, 2016
https://www.catholicamericanthinker.com/
When you look into how this beautiful, inspired, almost miraculous and truly brilliant thing called the USA actually came to be, you might be humbled to your knees when you recognize the hand of God in it. The Patriots who won America in war, and then designed her government, were of divergent Christian denominations. They disagreed mightily in some parts of Christian theology, but the one thing they were all agreed upon was Christian Morality. The Social Issues. A uniquely Christian concept of determining right from wrong, as a basis for legislating civil law.
(Continue Reading the Whole Article at Social-Issue-Neutrality)
Do not reply to this automatic email.
Respond the original article at: Social-Issue-Neutrality Comments.
Find ALL articles at: The Catholic American Thinker CONTENTS.