Subscribers Newsletter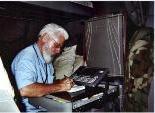 PC Speech Control Vs. 1st Amendment Freedom of Speech: Place your bets.
Politically Correct Speech Control is ever increasingly taking charge of Constitutional America. Is everybody happy?
Vic Biorseth, Thursday, November 03, 2016
https://www.catholicamericanthinker.com/
If you haven't figured it out yet, this is a divisive website in an all inclusive culture. The Hippie - Yippie revolutionary mantra of the 1960s was "Make Love, Not War." That incredibly stupid sentiment now predominates in the whole culture, including even within the Church. A new "Universal Inclusiveness" movement openly seeks to welcome even Satan and all his evil works into the "new" culture, and even into the "new" Church.
This site ain't buying it. We're about war, not peace. About dividing, not uniting just for the sake of uniting. I'm sick of hearing "Conservatives", especially, running their mouths about somehow "bringing us all together". That's the last thing we want to do.
(Continue Reading the Whole Article at Speech-Control)
Do not reply to this automatic email.
Respond the original article at: Speech-Control Comments.
Find ALL articles at: The Catholic American Thinker CONTENTS.