Subscribers Newsletter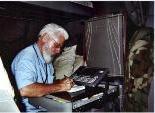 Spineless Leaders cause more cultural harm than Traitorous Leaders.
Spineless Leaders who push rather than pull, who lead from the rear of the column, and who are too weak or cowardly to actually confront any enemy.
Vic Biorseth, Sunday, May 07, 2017
https://www.catholicamericanthinker.com
How could "Do Nothing" leaders hurt us more than traitorous ones? For one thing, there's a hell of a lot more of them. As time goes on, and Truth gets more and more compromised, there are more traitors to the culture than true champions of civilized culture among the cultural leadership. But how that change takes place is through the non-resistance of spineless, weak and cowardly leaders, who never, ever, confront open acts of treachery and treason by their fellow "brother" leaders, right in front of them. Even as it goes on right under their noses.
Over some misplaced sense of solidarity with the leadership brotherhood.
Continue Reading at: Spineless-Leaders
Do Not Respond To This Automatic Email.
Reply to this article at Spineless-Leaders Comments.
Find ALL SITE articles at: The Catholic American Thinker CONTENTS.