Subscribers Newsletter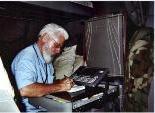 Relationships: Spirit and Flesh; Love and Law; Religion and Politics.
Is Real Freedom a freedom from sin, or a freedom from legal or legitimate authority?
Vic Biorseth, Thursday, November 19, 2015
https://www.catholicamericanthinker.com/
Well, if legal, legitimate authority, meaning the law of civil government, is properly aligned with religious moral doctrine, then, staying within the bounds of civil law means staying within the bounds of religious doctrine. When Jesus or His Apostles, especially Paul, spoke of Spirit and Flesh, they were speaking of motivation; what drove man to obey the law, whether Love, or mere fear of the law. For the love of Christ and the Law were compatible, as far as requirements of moral behavior were concerned. Motivation through love makes it unnecessary to even know the law, for the lover of Christ will automatically obey the law. (If it is truly representative of the religious law.)

(Continue Reading at Original Source: Spirit and Flesh.).
Do not reply to this automatic email.
Respond to this article at the actual article:
Respond to Spirit and Flesh..
Find ALL articles at: The Catholic American Thinker CONTENTS.