Subscribers Newsletter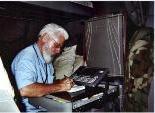 On Stupid, Stupid Globalism, and the Pure Authoritarians Pushing It.
You might think it couldn't get any dumber than Socialists who keep re-trying Failed Socialism again and again. But Globalism gets Two Stupids, as the all-time Champion of All Social-Stupidities.
Vic Biorseth, Saturday, December 09, 2017
https://www.catholicamericanthinker.com

Most usually, those politicos pushing Socialism actually seek to impose Communism, which is to say, Ruthless Dictatorship, which is the only form of government ever to exist in any land that pretended to be and called itself Communist. (True Communism, being quite impossible, cannot exist and has never existed.) Crazy Bernie Sanders may be an exception to that rule, and may actually believe that Socialism, with it's 100% failure rate, can actually be made to work. Maybe that's why they call him Crazy Bernie.

Continue Reading at: Stupid-Stupid-Globalism
Do Not Respond To This Automatic Email.
Reply to this article at Stupid-Stupid-Globalism Comments
Find ALL SITE articles at: The Catholic American Thinker CONTENTS.