Subscribers Newsletter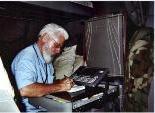 The Swamp Fights Back: Never Underestimate Deep Marxist Muck.
The Marxist-Globalist Deep-State Swamp Fights Back against President Trump, We The People and our Constitution.
Vic Biorseth, Saturday, June 17, 2017
https://www.catholicamericanthinker.com
We have addressed the various deadly denizens of the Washington Establishment Swamp in recent "Swamp Creature" treatments, such as The Wasington Swamp, Draining Swamps, Realistic Swamp Draining, the Catholic Swamp, etc.
President Trump boldly waded into this quagmire with the intention of draining it, and restoring America's original greatness. But firing up the rhetorical roto-rooter machine became problematic, because the Republicrats controlling both houses of Congress were purposely slow to confirm his full Cabinet. He had to have people in place in each department before each department could be "drained", and his own Party purposely interfered with that process.
Continue Reading at: Swamp-Fights-Back
Do Not Respond To This Automatic Email.
Reply to this article at Swamp-Fights-Back Comments
Find ALL SITE articles at: The Catholic American Thinker CONTENTS.