Subscribers Newsletter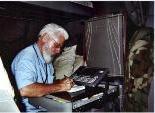 Tail Wags Dog!
A minority tail furiously wags a majority dog unto death.
In bending over backwards to mollify and molly-codle minorities, the majority forgets it is the majority and instigates its own demise.
Vic Biorseth, Sunday, August 25, 2013
https://www.catholicamericanthinker.com
So who should assimilate with whom? If 90% + of the American black community refuses to assimilate into the larger culture, should the larger culture somehow try to assimilate into the smaller black sub-culture? I'm telling you right now, I'm not going to assimilate into any other culture. Somebody has to make the move, and it's not going to be me. The only other option is to remain forever at odds and alienated from each other. I do not believe that the minority tail should wag the larger dog. I will not assimilate into the smaller black community.
Let them be anathema. ...


(Read the Whole Article at Tail Wags Dog!.)



Do not reply to this automatic email.
Respond to this article at the link below:
Tail Wags Dog!
This article and comments may be found on the web site at the link below:
https://www.catholicamericanthinker.com