Subscribers Newsletter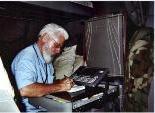 Even our best Major Media Cultural Commentary, Talk Radio, is not perfect.
Conservative Talk Radio STILL often mistakes pure evil for simple naïveté.
Vic Biorseth, Wednesday, March 11, 2015
https://www.catholicamericanthinker.com/
"Evil still exists.
Nothing has changed in that regard, except that evil keeps advancing. The way that evil advances among conservatives is by not being recognized as evil. Evil is going to win its allotted number of souls. That's the way it is. Once you have determined that someone has gone over to the evil side, and is obstinate about it, and determined to remain there, you need to separate from them, lest you become evil, or a tool of evil, too. Satan has his Useful Idiots the same as Marx.
You become evil's fool by being fooled by any softened version of evil."

(Continue Reading at Original Source: Talk Radio).
Do not reply to this automatic email.
Respond to this article at the actual article:
Respond to Talk Radio.