Subscribers Newsletter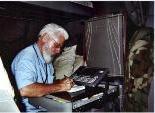 Technology: a Two Edged Sword.
Technology can be used for good, or for evil.
Mary Ann Kreitzer, October 2013
https://www.catholicamericanthinker.com/
We are living in technologically incredible times, technologies with the potential for great good, but also great evil. Some technologies have the power to bring us to the point of Armageddon because they involve blasphemies against God so great they invite annihilation! Certainly we see that in weapons of physical warfare, but I'm referring to another war, the war in the womb. Many scientists today are developing reproductive technologies that were subjects of science fiction not long ago. They usurp God's power making themselves lords over life itself. To understand the scope of evil involved in these technologies, we need to consider theological basics first and God's design for life, love, and the family. It's a far cry from the utopia offered by scientists.

(Continue Reading at Original Source: Technology).
Do not reply to this automatic email.
Respond to this article at the actual article:
Respond to Technology