Subscribers Newsletter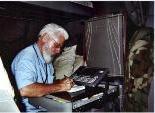 The Mainstream Media Pages: Soft Marxist Propaganda disguised as News.
The Mainstream Media Pages show the linkage between Journalism, Politics and Marxism.
Getting and keeping anti-Americanism into high office.
Vic Biorseth, OWM; Thursday, September 25, 2014
https://www.catholicamericanthinker.com/
The Marxist ideological linkage is now so tight that I cannot tell whether the Marxism-dominated News Media is driving the Marxism-dominated Democrat Party, or the other way round. And the Marxism-infected Republican Party is offering no resistance to either of them. That's why some time ago I began referring to them as the Marxocrat Party and the Republicrat Party, because neither one of them represents the opposing ideology, which is, of course, American Constitutionalism.

(Continue Reading at Original Source: The Mainstream Media Pages).
Do not reply to this automatic email.
Respond to this article at the actual article:
Respond to The Mainstream Media Pages.