Subscribers Newsletter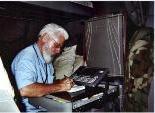 The Marxism Pages: The Destruction of Western Civilization From Within.
The Marxism Pages, on the Western Cultural transformation from Judeo-Christianity into Pure Materialism.
Vic Biorseth, OWM; Sunday, September 14, 2014
https://www.catholicamericanthinker.com/
Within the Marxism Pages you will find ample evidence of the false nature and utter hypocrisy of all of Marxism's many manifestations. From Communism through Socialism, National Socialism and Fascism, Progressive-ism, Redistribution-ism, Statism by other names, or just plain Collectivism - all of it is false, fraudulent and a smoke screen for the real aim, which is the eventual assumption of absolute dictatorial power. The original aim has never changed. It is and always was "Revolution" against the whole of the existing social structure, whatever form that social structure may be at any moment in history or at any place on earth.

(Continue Reading at Original Source: The Marxism Pages).
Do not reply to this automatic email.
Respond to this article at the actual article:
Respond to The Marxism Pages.