Subscribers Newsletter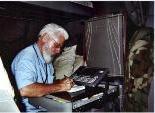 On Theory Dominating Substance, in science, religion, morality, and culture.
Everywhere we look, we see the theoretical trumping the substantial, up and down the line.
Vic Biorseth, OWM; Wednesday, November 12, 2014
https://www.catholicamericanthinker.com/
The big news these days is centered on one Jonathan Gruber's comments on how all the Obamunist operatives, and all the Marxocrat Party operatives, and all the Marxocrat Journalist operatives, and all the Marxocrat Academic operatives, and all the Marxocrat Entertainment Celebrity operatives, all had to lie to the public in order to have any public support whatsoever for Obamacare. Because, you see, the voters were just too stupid to understand the larger cause of the march of mankind into the Great Collective of the New World Order.
Those who think he meant the voters were too stupid to understand the "goodness" of Obamacare missed the whole point. Obamacare was never intended to be "good" and everyone involved in all the illegalities and Constitutional violations of pushing it through knew it. Including the Marxocrat Justices on the Supreme Court.

(Continue Reading at Original Source: Theory Dominating Substance).
Do not reply to this automatic email.
Respond to this article at the actual article:
Respond to Theory Dominating Substance.