Subscribers Newsletter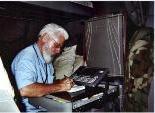 It's "Time To Unite" with anti-Americans and all forms of evil? My Ass!
We The People should reach out to them? As they are? Why? !!! Shouldn't they be trying very hard to convert themselves and reconcile with us? If not, why not?
Vic Biorseth, Saturday, January 21, 2017
https://www.catholicamericanthinker.com
The repetition of the message is disgusting. "Inauguration" should be a "time of uniting", of "bringing us all together", of "reaching out to the losing side", of "proving inclusiveness", of becoming "a President of all of the people", etc., etc., etc. That's the time honored tradition. That's what America is all about. That's what President Trump should have done.
Balderdash, Bull feathers and Horse Hocky-Dooty-Poop! !!!
Continue Reading at: Time-To-Unite
Do Not Respond To This Automatic Email.
Reply to this article at Time-To-Unite Comments.
Find ALL SITE articles at: The Catholic American Thinker CONTENTS.