Subscribers Newsletter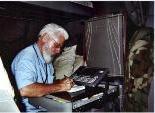 To be, or not no be, lukewarm; that is the question.
Whether tis nobler to fight the good fight, or just smile and be nice ...
Jeff Cole; Thursday, July 3, 2014
https://www.catholicamericanthinker.com/
The devil is very cunning and he knowingly put America in a slumber by offering us all the comforts and joys of life. Videos, phones, television, pornography and plenty of food. Many receive easy money like fat pensions or free government assistance. The list goes on and it's no wonder why Americans are unable to snap out of it. But distractions are only part of the problem. From what I've observed most recently and over the years, it is a problem that appears to me to be two-fold, as I will explain.

(Continue Reading at Original Source: To be or not to be lukewarm).
Do not reply to this automatic email.
Respond to this article at the actual article:
Respond to "To be or not to be lukewarm"