Subscribers Newsletter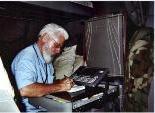 Transparency in Government versus Hidden "Sausage-Making".
Real Legislation, we are told, is ugly, like Sausage Making. You don't really want to see it. Transparency in the legislative process is not recommended.
Vic Biorseth, Sunday, January 21, 2018
https://www.catholicamericanthinker.com

The way "Messy Democracy" works, we are constantly reminded, is like sausage-making. It is best left unseen by the public.

Bullcrap.

Grandma used to make sausage, and we grandchildren loved watching her do it. It's a myth. There's nothing ugly about it. It's a beautiful thing, to put it as Emeril Lagasse might say it.

Continue Reading at: Transparency
Do Not Respond To This Automatic Email.
Reply to this article at Transparency Comments
Find ALL SITE articles at: The Catholic American Thinker CONTENTS.