Subscribers Newsletter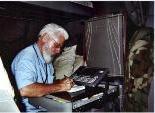 Treason and Stupidity: co-dependent cooperators against Civilization.
The Traitor needs to fool someone. Treason "recruits" cooperators. Really big treacherous deceptions demand really big frauds. Treason and Stupidity need and feed each other.
Vic Biorseth, Saturday, June 03, 2017
https://www.catholicamericanthinker.com
You can fool all of the people some of the time.
You can fool some of the people all of the time.
But you can't fool all of the people all of the time.
The old saw holds true. Some of us are hopelessly gullible, some of us are hopelessly skeptical, and in among us are talented deceivers and spell-binding story tellers. When some of these are recruited into larger deceptive "Revolutionary Movements" they become the initiators and growers of social stupidity. The object of their talent for deception then becomes focused on the fooling of whole populations.
Continue Reading at: Treason-and-Stupidity
Do Not Respond To This Automatic Email.
Reply to this article at Treason-and-Stupidity Comments
Find ALL SITE articles at: The Catholic American Thinker CONTENTS.