Subscribers Newsletter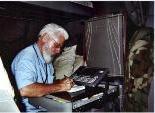 Trump Flips: Are they Flips, or "Art Of The Deal" Deal-Making?
Note that in every so-called Trump Flip-Flop, Trump winds up in a much better relationship and/or a much stronger negotiating position with some former adversary.
Vic Biorseth, Saturday, April 15, 2017
www.CatholicAmericanThinker.com
No exceptions.
What critics fail to realize, still, is that Trump is no Politician, i.e., he has no real political ideology as such. He's a Capitalist as a practical matter, not an ideological one. Capitalism works; Socialism doesn't. Very simple; nothing to it. As a practical matter, Trump has mastered the art of the deal. What he does is deals, not politics. The "Establishment" doesn't get it, because the "Establishment" is totally political, and thus, totally impractical.
Continue Reading at: Trump-Flips
Do Not Respond To This Automatic Email.
Reply to this article at Trump-Flips Comments.
Find ALL SITE articles at: The Catholic American Thinker CONTENTS.