Subscribers Newsletter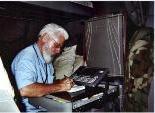 Truth Denial: Über-elitist, high intellectual, super sophisticated Stupidity.
Evil = Falsehood; the opposite of Truth. It is not possible to oppose reality and not be stupid.
Vic Biorseth, Tuesday, August 11, 2015
https://www.catholicamericanthinker.com/
Denial of objective reality is the hallmark of stupidity.
We have discussed Truth, and the opposite of Truth, which is Evil. And we have discussed the original root of Stupidity. Angelic spirit-beings, especially those anywhere near the lofty angelic rank of Lucifer, consist of almost pure intellect, with intelligence vastly superior to all of us mere mortals. But then, leading the historic parade of stupidity, Lucifer, a mere creature, rebelled against his own Creator.
Rebelling against one's own Creator is an act of irredeemable stupidity.

(Continue Reading at Original Source: Truth Denial).
Do not reply to this automatic email.
Respond to this article at the actual article:
Respond to Truth Denial.
Find related articles at: The Infiltration of Evil Pages.
Find ALL articles at: The Catholic American Thinker CONTENTS.