Subscribers Newsletter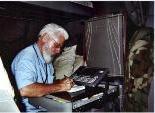 Tyranny Rising: The End of Faith On Earth, and Constitutional America?
Globalism Necessarily Means Tyranny and the End of Individual Liberty. Welcome to the Great Global Commune. Welcome to the corralled herd, from which there is no escape


Vic Biorseth, Tuesday, December 08, 2020
https://www.catholicamericanthinker.com
With growing mountains of convincing solid evidence of 2020 election fraud piling up, the 'not enough to effect the results' evidence deniers and investigation avoiders are ever so slowly coming round to expressing shock - shock, they pretend - that actual elected Governors are perpetrating it. And that actual elected Mayors are perpetrating it. State Secretaries of State. District Attorneys. Judges and Courts. Why, it appears that the whole Marxocrat Party is involved. We're talking criminal election fraud here. Everything points at Party leadership, meaning, past Presidents, ranking members of state and federal Houses of Representatives and Senates. Including, especially, Sleepy Joe Biden and Commiela Harris. (You say Kamala, I say Commiela.)
Continue Reading at: Tyranny
Do Not Respond To This Automatic Email.
Reply to this article at Tyranny Comments
Find ALL SITE articles at: The Catholic American Thinker CONTENTS.