Subscribers Newsletter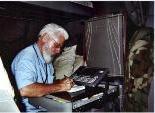 In this Information War, a Disinformation Program has established Unreality.
An Information War is unlike any war we have ever fought. Now, what Truth fights, is massive persistent belief in Unreality.
Vic Biorseth, Monday, February 20, 2017
https://www.catholicamericanthinker.com
Think of Unreality as Territory.
Think of Disinformation as an army invading and seeking to crush Reality.
It's what military men call PSYOPs, or Psychological Warfare Operations. Believe it or not, "Disinformation" campaigns are older than Communism, older than Machiavelli, at least as old as Genesis and the PSYOP lies in the Garden. "You will not die." "You will be like gods." "You will possess wisdom and knowledge."
Continue Reading at: Unreality
Do Not Respond To This Automatic Email.
Reply to this article at Unreality Comments.
Find ALL SITE articles at: The Catholic American Thinker CONTENTS.