Subscribers Newsletter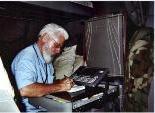 Vaccines, Vaccinations, and Related Moral and Political Cans Of Worms.
The Trump Vaccine Against The Chinese Communist Virus PSYOPS Program Opens Multiple Ugly Cans Of Worms.


Vic Biorseth, Saturday, December 05, 2020
https://www.catholicamericanthinker.com
Once upon a time everyone in America had that little scar on their shoulder from their smallpox vaccination. And, once upon a time, we all got vaccinated for polio. During my Army years we had to keep our shot record always with us and always up to date, else we couldn't ship out on a moment's notice. Tetanus, typhus, typhoid, cholera, more that I can't remember, and even pills for malaria.
It worked. It kept us healthy.
Continue Reading at: Vaccine
Do Not Respond To This Automatic Email.
Reply to this article at Vaccine Comments
Find ALL SITE articles at: The Catholic American Thinker CONTENTS.