Subscribers Newsletter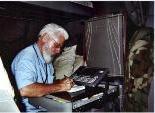 On the Ongoing Multiple-Faction War Within Catholicism.
If we can't get our own faith right, no other war matters, for civilization itself will be lost. The ongoing multifaceted war within Catholicism will determine the ultimate fate of the world.
Vic Biorseth, Monday, February 05, 2018
https://www.catholicamericanthinker.com

There is one and only one God and there is no other.

He instituted one and only one Church and there is no other.

There is and can be one and only one correct full Gospel message preached, unchanged, from that one and only one Church, which was instituted by that one and only one God.

And yet, here we are, calling ourselves Catholic, and going to all of our now wildly diverse and radically different yet supposedly Catholic Churches. Or, perhaps, not going at all, yet still referring to ourselves as being, somehow, "Catholic".

Continue Reading at: War-Within-Catholicism
Do Not Respond To This Automatic Email.
Reply to this article at War-Within-Catholicism Comments
Find ALL SITE articles at: The Catholic American Thinker CONTENTS.